On the second day of Christmas, my true love read to me: Two Boys Kissing and One Shot in a pear tree.
Sorry, but I've had that damn carol stuck in my head for weeks, so I'm sharing the earworms around. Today, for the second day of Christmas, I'm reviewing Two Boys Kissing by David Levithan.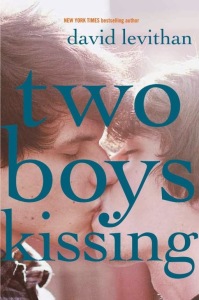 Two Boys Kissing
could hardly be more different from One Shot, in both style and substance. At its heart are two boys, Craig and Harry, making an attempt to get into the Guinness Book of Records for the world's longest kiss. They used to be a couple, but now are just friends. Around them and woven through the story of the record attempt are the stories of other boys: Peter and Neil, who have been going out for a year; Avery and Ryan, who have only just met and are exploring the exciting possibilities of new romance; and Cooper who, with no one to love, despises himself more than anyone else possibly could.
Levithan uses these relationships to explore love and friendship in all their messy varieties. There are supportive parents, oblivous ones and angry, disapproving ones. There are the usual teenage problems of coping with bullying, finding acceptance among your peers and navigating those first awkward romances, all with the added difficulty of being gay in a straight world. There is even a transgender character, who was born a girl but is now a gay boy.
We are a long way from the usual teen romance fare.
Having said that, though, Drama Duck, our resident teen romance junkie, loved this book. She needed a little hint to understand who was telling the story, but once she was up to speed with that she raced through it.
Levithan has a beautiful, lyrical style and a mastery of the telling detail. The story of the record-breaking kiss is the story arc the rest of the book revolves around, but he manages to drop hints of the past and future of the characters, so you feel as if you're seeing a slice of the lives of real people who live on outside the confines of the novel.
The story is narrated by the ghosts or spirits of those who died in the AIDS epidemic, but not in a woo-woo supernatural way. There are no ghost sightings in the novel. The narrators are more like a Greek chorus, who watch the lives of these boys with both compassion and envy, and tell their stories with delight at their passion and energy even while mourning their own lost opportunities. The tone is elegaic and beautiful:
"If you are a teenager now, it is unlikely that you knew us well. We are your shadow uncles, your angel godfathers, your mother's or your grandmother's best friend from college, the author of that book you found in the gay section of the library. We are characters in a Tony Kushner play, or names on a quilt that rarely gets taken out any more."
I found that reference to a quilt particularly compelling, having once seen one of those enormous memorial quilts, contributed to by hundreds of people who'd lost a loved one. That's what I mean by Levithan's mastery of the telling detail – that one reference carries so much history and emotion, a whole story in itself.
It's a beautiful book, and an important book. Not the kind of book I usually read, and certainly not lighthearted entertainment, but a story that stays with you a long time. Highly recommended.
Next up, the third day of Christmas and Three Wishes by Liane Moriarty.