The Proving series
Prequel: Moonborn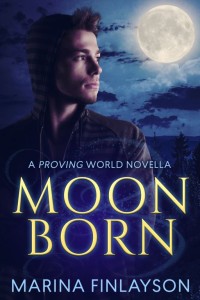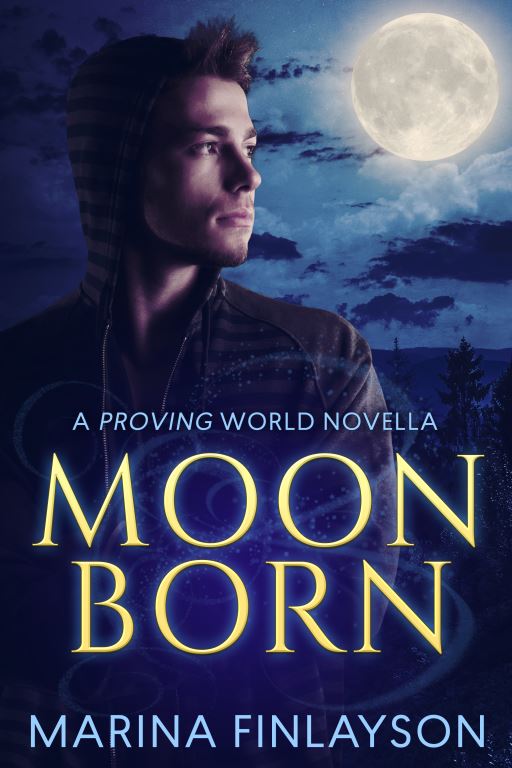 Garth has always wanted to be a werewolf. Since childhood he's lived on the edges of the pack—the human stepson of the pack leader, the eternal outsider. All he wants is to belong. Well, maybe not all he wants … he wouldn't say no if the gorgeous Carly ever decided to look twice at him, but she only has eyes for the pack bully. And Garth is itching for the chance to take that bastard down.
It seemed like such a great idea to get his werewolf brother to turn him. Or, at least, it seemed like a great idea until he was stuck up a tree in the middle of nowhere, losing blood by the bucketload, with a crazed werewolf waiting for him to fall.
And that was even before the pack leader found out what he'd done. The risk of dying from the Change hangs over Garth—but suddenly dying looks like the easy option, compared to living as part of the pack. Because Garth's never been the kind of guy who follows the rules, but now he has to learn fast or lose everything.
Moonborn is the novella-length prequel to the action-packed trilogy The Proving.
Ebook: Amazon.com | Amazon.co.uk | Amazon.com.au
Paperback: Amazon | Book Depository | Barnes and Noble | Fishpond
Book 1: Twiceborn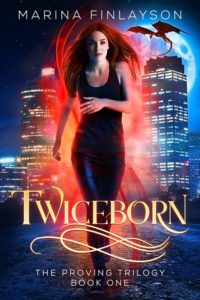 Kate O'Connor's trying to move on from a tragic past, but there's a big difference between wanting to forget and having someone rip the memories right out of your head. When Kate returns from an unusual courier job with no memory of where she's just been, alarm bells start ringing. But the weirdness gets seriously out of hand when a werewolf shows up in her kitchen and tries to kill her. It turns out there's a whole hidden world of shifters out there—and most of them want Kate dead. Shame she can't remember why.
Werewolves are only the beginning of Kate's troubles. The shifter world is ruled by the dragon queens, and Kate's managed to land right in the middle of a supernatural war of succession. As the queen's daughters fight to the death, Kate forms an unlikely alliance with her attacker. To have any hope of surviving she must uncover the explosive secret hidden in her memory—but first she has to live through the night.
Ebook: Amazon.com | Amazon.co.uk | Amazon.com.au
Paperback: Amazon | Book Depository | Barnes and Noble | Fishpond
Book 2: The Twiceborn Queen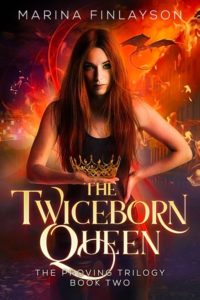 Kate O'Connor's had a rough week. Thrown into the middle of a war of succession between the daughters of the dragon queen, her introduction to the hidden world of the shifters almost proved fatal. Now, because of Kate and her new powers, that hidden realm has been revealed to the world, which hasn't exactly won Kate any popularity contests.
Still, it's not all bad news. After all, it's not every day someone you love comes back from the dead. Throw in a hot new boyfriend, and suddenly Kate's got a lot to live for—which is bad timing, because now the queen's set a bounty on her head and every shifter in Sydney is trying to collect it.
Kate may have defeated a dragon already, but there are plenty more where that one came from. As her enemies close in and the body count mounts, Kate begins a desperate search for allies. The deadly game of the proving continues. If Kate is to save the people she loves, failure is not an option. The rules are simple: win or die.
Ebook: Amazon.com | Amazon.co.uk | Amazon.com.au
Paperback: Amazon | Book Depository | Barnes and Noble | Fishpond
Book 3: Twiceborn Endgame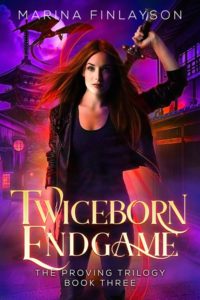 Half human, half dragon, all vengeance.
No one said being half dragon would be easy, but Kate O'Connor's life has gone completely off the rails. She thought she'd won the succession war between the daughters of the dragon queen, until a shocking betrayal changed everything.
Now seven new sisters have joined the fray, a sinister government taskforce is gunning for her, and the Japanese queen has hit town, bent on snatching the throne for herself. Worst of all, her beloved son has been abducted.
The shifter world has never seen a proving like this one, but then, there's never been a dragon quite like Kate before. She'll need her human ingenuity as well as her dragon magic to save her son and everyone she holds dear. The final moves in the deadly endgame take her from goblin caves to Japanese palaces as she races against the clock to snatch victory from the dragon jaws of defeat.
Ebook: Amazon.com | Amazon.co.uk | Amazon.com.au
Paperback: Amazon | Book Depository | Barnes and Noble | Fishpond