On the third day of Christmas, my true love read to me: Three Wishes, Two Boys Kissing and One Shot in a pear tree.
Continuing my review series The Twelve Reads of Christmas, for the third day I'm reviewing Three Wishes by Liane Moriarty.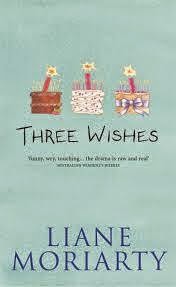 I love Moriarty's books. This was her first, way back in 2003 (Baby Duck was just a hatchling!), but it doesn't read like a first novel. She has fabulous control of voice, and can be laugh-out-loud funny and deeply moving all on the same page. When she changes point of view, you know it immediately from the differing word choices and sentence constructions.
Three Wishes begins with a prologue which switches seamlessly between several different narrators – an uptight mother, a waitress, a random guy on a blind date – all telling the story of a crazy incident at a restaurant, where three sisters – triplets! – were having a great night out celebrating their birthday, until suddenly a huge argument blew up, ending in one sister being stabbed in her very pregnant stomach with a fork and another collapsing in a faint and breaking her jaw. These different narrators are clearly differentiated and nicely observed.
But why did this happy occasion come to such an abrupt and violent end? As the triplets' mother asks, "what in the world started it?". That's the question the novel sets out to answer.
"You could argue that it started thirty-four years ago", Chapter One begins, when the girls' parents met, had unprotected sex and became young unwilling parents. At least, that's how Gemma, the commitment-phobic drifter sister, would put it.
"Cat would argue that if she was going to start with their conception, then why not go back through their entire family tree? Why not go back to the apes? Why not start with the Big Bang? I guess I did really, Gemma would chortle – Mum and Dad's big bang. Oh funn-y, Cat would say. Let's look at it logically, Lyn would interrupt. Quite clearly, it started the night of the spaghetti.
And Lyn, quite naturally, would be right."
– all of which give an amusing insight into the sisters' relationships. Cat, desperate for a baby and dumped by her husband on "the night of the spaghetti", would argue till her last breath, just for the fun of it. Lyn, the uptight perfectionist, is always right, though even her "perfect" life has its problems, including a teenage stepdaughter. Not as big as the problems sweet dreamy Gemma has been hiding from them all, though.
The sisters' relationship is at the heart of the novel, full of the love and hate, old arguments and remembered injuries, passionate loyalty and childhood memories, that bind any siblings. Moriarty does family relationships in a marvellously entertaining but very real way. You're nodding along, seeing things you recognise even as you're laughing at the over-the-top antics of the trio.
The chapters alternate between the sisters' points of view, starting with Cat's and the infamous night of the spaghetti. The story then weaves its way through the tangle of their lives till it arrives once more at the restaurant of the start, only this time we know what's going on and how important this night is for all three.
There are also amusing email exchanges between the sisters, and funny glimpses of the sisters' past, little vignettes narrated by complete strangers about a moment when the lives of the girls influenced their own all unknowingly. This nicely illustrates the theme flowing through the novel of the interconnectedness of people's lives, as well as being a clever way of introducing family history without interrupting the present-day story.
We get to know each of the sisters very well and care deeply about what happens to them. They are warm, funny, and loving – as well as occasionally bitchy, mean and point-scoring. Very real, in other words. There are developments in the story that felt inevitable, as well as twists you never saw coming, and the plot races along, full of the energy that sparks between the sisters whenever they're together.
It's a great read; often funny, sometimes poignantly real. If you like stories about relationships and the give-and-take of life, this is one birthday dinner you won't want to miss.
Coming on the fourth day of Christmas, some non-fiction for a change of pace: The 4-Hour Work Week by Timothy Ferriss.