On the eleventh day of Christmas, my true love read to me: 11 Birthdays, Ten Big Ones, Nine Parts of Desire, When Eight Bells Toll, The 7 Habits of Highly Effective People, The Six Sacred Stones, Five on a Treasure Island, The 4-Hour Work Week, Three Wishes, Two Boys Kissing and One Shotin a pear tree.
Today, for the eleventh day of Christmas, I'm reviewing 11 Birthdays by Wendy Mass.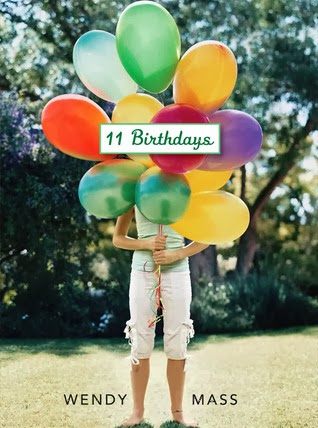 This is a middle grade book with a Groundhog Day premise. Amanda and Leo were born on the same day in a small-town hospital, and ever since they've celebrated their birthday together. Until, at their tenth birthday party, Amanda overhears Leo saying something unforgiveable, and promptly severs their friendship.
Now it's their eleventh birthday. They're both miserable – but worse than that, they're both caught in a curse that ensnared their greatgrandparents decades before – and the horrible day of their eleventh birthday just keeps repeating. If they can't figure out what's going on and how to break their curse, they could be blowing out eleven candles every day for the rest of their lives.
It's a long time since I've read a middle grade book, and I have to admit this wasn't my first choice for the eleventh read of Christmas. That was Stephen King's time travel story 11.22.63 – but when I got to the library and saw the size of that sucker, I went looking for something that wasn't going to take me a week to read, and this is what I found.
I think if I'd read it when I was a middle-grader I would have really enjoyed this. As an adult I found some of the themes pushed a bit heavily, but eight or nine-year-old me would never have noticed, too busy following the amusing adventures of the two birthday kids. I would have liked the little touch of magic too. What kid wouldn't love the chance to live without consequences? No matter what you did, it was all forgotten when you woke up and relived the same day fresh again. Think of the possibilities! Leo certainly did.
It was nice to see a proper friendship between a girl and a boy too. A sweet, feel-good story for the younger readers in your life.
For the last read of Christmas, coming up is 12th of Never by James Patterson and Maxine Paetro.