I've branched out in my reading a little lately, and sampled some non-fiction, crime, chick lit, historical and of course, good old fantasy. Here are three books you might enjoy:
Midnight Confessions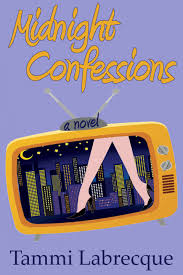 With all the sparkle of a Jennifer Crusie novel, Midnight Confessions reels you in from the very first scene and doesn't let go until the end. Jenna, still miserably in love with her ex, is nevertheless attending his engagement party when she meets Mitch, a soap star. Mitch isn't really her type, and she's still in love with the undeserving Drew anyway, but as a favour to her friend she agrees to go out with Mitch.
She's supposed to be pumping him for soap-star gossip, but somehow they seem to spend more time talking about her. He's so easy to talk to, and there's certainly a spark of something there—but he's not her type, right? Except every time she tells herself that, we are less and less convinced, and Mitch is so determined, and so hot …
Sometimes I wanted to shake Jenna! Mitch was so perfect, so patient and understanding, and so hot—did I mention the hotness??—and she was so determinedly looking for love in all the wrong places. But her obsession with Mr Wrong and the insecurity of her bruised heart were very believable. Jenna and Mitch were both great characters, and their verbal sparring was very amusing.
In fact, the narration all the way through, told from Jenna's point of view, was very entertaining. How could you not love a book whose first line is: "The only reason I even agreed to come to Drew's engagement party was so I could see if his fiancee is prettier than me"? Jenna is an easy heroine to get behind: her insecurities and her yearning for a lost love would be familiar to most women, and by the end of the book I was rooting for her to sort herself out and find happiness with the delectable Mitch.
The Fire Mages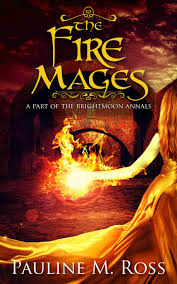 You know how people are always complaining that fantasy worlds shouldn't be so patriarchal just because most of them are modelled on the Middle Ages, and that someone should write a fantasy where the women have true equality in society?
Well, someone has. Her name is Pauline M Ross, and the book is The Fire Mages. It's a great read, full of magic and adventure, and tells the story of Kyra, a very level-headed young girl who has big ambitions to be a law scribe and wield magic through written spells. It's a big dream for a village girl, but Kyra is prepared to work hard, and refuses to be turned aside from her plans.
As the novel opens, the local lord's steward throws the first roadblock in her way by bringing her an offer to become the lord's drusse, a kind of legal mistress. Kyra's mother sees the advantages of this position, but Kyra refuses to be swayed. Through sheer determination she makes it to the city and begins her training, rising through the ranks with her hard work. She even manages to find herself a powerful mage as patron, and everything seems to be going well, until the steward comes calling again, this time for her sister. Her sister agrees to become the lord's drusse, but begs the half-trained Kyra for a simple favour. Of course it turns out to be anything but simple, and everything goes so wrong that Kyra's dreams are shattered.
In her quest to find out what went wrong, Kyra discovers power she had never dreamed of, and uncovers the mysteries of the deadly Imperial City of the ancient mages. She faces many dangers along the way, and does so with a refreshing pragmatism. There are no hysterics for this capable young woman.
I loved Kyra's world. It was full of women being real people, not just serving wenches and prostitutes. There were female stablehands, translators, wagoners, inn managers and guards—just about any job you could imagine had women working alongside the men. In a nice touch, there were even male "companions" to be bought for a night's pleasure at the inns, as well as female ones. How's that for equality? It certainly made a nice change from the usual male-dominated fantasy worlds. Throw in an interesting new magic system and you have a very well-developed world. Ross has obviously put a lot of thought into her society, its politics and its history. It's a fascinating place, so I'm glad she has other books set in this world to explore. This one was certainly a compelling story.
Pope Joan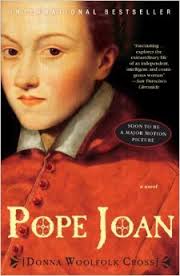 This was a novelisation of the life of the probably-real female pope, Pope Joan. So few records remain that historians cannot agree on whether she actually existed, and the "facts" of her life are few, so the author had lots of scope for invention. Her use, more than once, of amazing coincidences to get Joan out of trouble bothered me, but I couldn't fault the historical side of the novel. She obviously did a lot of research, and has recreated the look and feel of an often-overlooked part of history, which made for a fascinating read.
And, reading this book, you know why they called it "the Dark Ages". Her vivid descriptions of the life people led back then, and the terrible attitudes and superstitions of society, made me very glad I didn't live in those times. Everyone suffered, even the wealthy, but the poor lived short lives of deprivation and hardship. To be a poor woman was the worst of the worst, with men firmly convinced that women's brains weren't able to be educated–that even to try was a sin and an abomination–and that women were no more than a useful chattel.
Joan, in desperation to escape this limited life, seizes her opportunity to impersonate her dead brother, and takes his place as a monk at a monastery, where her clever mind delights in learning. Thus her gender-bending life begins, a life that takes her all the way to the Church's highest office, with no one any the wiser that "John Anglicus" is really a woman.
I particularly enjoyed seeing the mindset of the people of those times. Though their attitudes were enough to make a modern woman grind her teeth, it was interesting to get a feel for how people saw the world in those times. These characters aren't just modern people parading through the book in ninth century costumes. They truly are from another world. I'm glad that world is gone, but it was interesting to read about.