Finding the floor … or tackling the teetering tower of terror, otherwise known as the to-be-read pile. First it was a shelf, then two, then a neat pile stacked against the wall. Now there are tottering piles thirty books high. There must be hundreds of books there, cluttering up my floor and my life.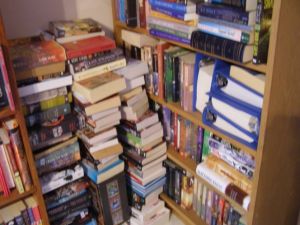 Hi, my name is Marina and I have a book-buying addiction. I can hear the authors among you yelling hoo-RAH! Bring on the book-buying addicts! And as addictions go it's fairly innocuous, I admit. But it will take me years to get through that many books. Some have been there years already – some so long I've lost all desire to read them, which is crazy. I couldn't even tell you what was on the bottom of some of those piles. Yes, I love books, but this is getting ridiculous. Time to tackle that monster!
Hence my new project – finding the floor in that scary corner of the room. Whittling down that overblown pile by reading one a week and reporting my progress here. Accountability is such a good motivator!
And to kick off the project, a book that spent barely any time on the pile, Dead in the Family by Charlaine Harris. (That's part of the problem – always reading the latest acquisitions and never getting to the older stuff – but I reserve the right to read in any order that takes my fancy.)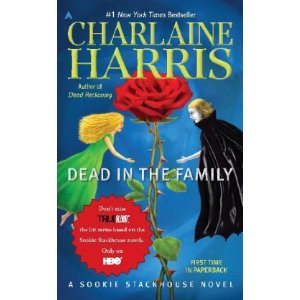 Dead in the Family is the tenth in the Sookie Stackhouse series about a telepathic waitress in small-town America and her continuing adventures with vampires, werewolves and other supernatural creatures. I've mentioned before on the blog how much fun this series is, and I dived into this one with every expectation of my usual huge enjoyment.
Let's just say that Dead and Gone remains my favourite of the series. This one was very slow to start. Almost half the book passed in small incidents and recapping previous events. Halfway through I was wondering "when is the Big Thing going to happen? Where is the main storyline?" Sookie seemed to be spending a lot of time thinking, sunbaking, going to work, having lunch with friends and family – all the things that make up her regular life – but without any underlying storyline driving the plot along. Something did eventually happen, but it wasn't really big enough to hang a whole book off. So instead of one main plot and several subplots, it felt like there were just a lot of subplots.
All this sounds as if I didn't enjoy it, which is not the case. It still had a lot of elements I love about the Sookie novels, particularly Sookie's pragmatism and the juxtaposition of her nice Southern gal manners against the monstrous misbehaviour of almost everyone around her. That's the undead for you. No social skills. There's humour in the way she stands up to the monsters and scolds them into better behaviour, but a serious side too. She forces them to remember their long-lost humanity.
Harris has Sookie in an uncharacteristically sombre mood for most of the book, which affects the overall tone. Bad things happen in most of the books, but usually Sookie retains her innate optimism. This time she's still recovering from the terrible events of the previous book, and it seems to have changed her character. I guess it's a good thing for the protagonist of a long-running series to change as the series progresses, otherwise the series can stagnate. But now there's a manic feeling to her bubbliness, and she's changed to the point of trying to organise the death of a vampire who's causing trouble for her boyfriend. A rather different Sookie to the sunny character of the first books. It will be interesting to see how far Harris takes her.
So yes, I'm still looking forward to the next one, even though this one felt more like the characters getting their breath back from the last one than a whole new story. I think there's still plenty of places Harris could take this series – I just wouldn't recommend starting with this one.