We had a weekend in the city recently. Check out the view from our apartment:
Admittedly the weather could have been better, but we couldn't complain about the location! In the heart of The Rocks, the oldest part of Sydney, we were surrounded by picturesque old sandstone buildings, quaint twisting alleys full of tiny galleries, gorgeous harbour views at every turn … So of course the kids wanted to go see the lego at the Sydney Aquarium.
And the lego was quite impressive, if lego is your thing. Moby Dick here had nearly 400,000 pieces of lego. The aquarium is always fun, if a little pricey. I love the seahorses
and the ugly dugongs. How drunk would a sailor have to be to mistake one of these babies for a beautiful mermaid??
Of course, I would have preferred less aquarium and more galleries – but that's life with kids in tow. They were pretty patient and put up with a few galleries and a lovely Sunday morning stroll through The Rocks markets. Bribery with ice cream always helps!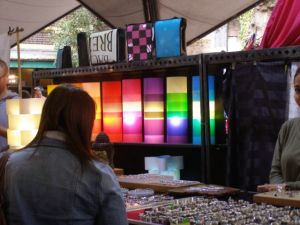 We also spent a lovely hour or so browsing a couple of big bookshops. Dinner on Saturday night was at the Summit, a revolving restaurant on top of one of the city's taller buildings. The views were great, despite the rain, and the kids had a great time stickybeaking at everything. The food wasn't half bad either.
Even breakfast is an adventure when you're staying at a swish place. All sorts of yoghurts and juices presented in tiny glasses made a tempting display.
Throw in a bit of time swimming in the hotel pool, and you have a pretty satisfying weekend all round. Sometimes it's fun to play tourist in your own city.
Now if I could just convince the kids there's more to Sydney than the aquarium …