Well, she's done it. Determination and feverish fundraising have brought her total raised to $150.50. At this rate she may even top $200.
Her school is one of the biggest fundraisers in the state, with their combined total currently standing at over $36,000. Twenty-one girls shaved their hair off in the school hall this week, with many more colouring their hair red, blue or pink.
Today it was her turn. She went from this: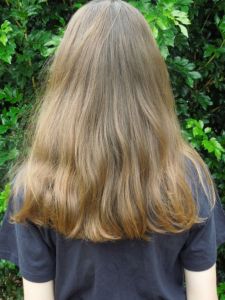 to this: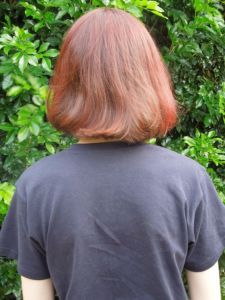 I'm surprised you didn't all hear the squeals of glee from wherever you are. To say she was excited to see her new look doesn't begin to cover it. She bounded off to the nearest mirror like Tigger on speed, and the shrieks of delight echoed through the house. She is not a child who believes in hiding her feelings. Thank goodness she was happy with it, or things could have got ugly!
I have to admit, it does look good. Let's hope it doesn't wash out too quickly. The packaging refuses to be pinned down: "colour will last from three to thirty washes". They couldn't manage to be just a little more specific? There's a bit of a difference between three and thirty! Might as well just say "we've got no idea how long this stuff lasts – probably not as long as you'd like it to, but we're not giving you your money back if you're not happy, so there!"
Fingers crossed she gets to enjoy the reward for all her hard work for at least a few weeks. Myself, I'm quite looking forward to my own reward – I get to stop making friendship bracelets. I'll hardly know what to do with myself!
Might even have to do something radical like getting back to work on my Nano novel.