Two finishes for the year so far – and the year's only a week old. Admittedly, they were both things that needed all of ten minutes' work, so it's not as if I've been slaving away. Still, it's nice to have that sense of completion. Even nicer to know Baby Duck will stop nagging me to finish his monkey. That boy sure is persistent.
So here he is, complete with beanie. I even made the pompom. The beanie is made from the only part of the pair of socks that doesn't get used in making the monkey. Now I wish I'd thought of it when I made the first one. It's so cute!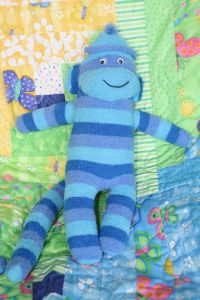 I call him Chunky Monkey, since he's a little heftier than his brother, as you can see here. I got a bit carried away with the stuffing.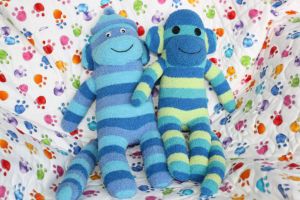 My other finish is this lap rug made of polar fleece. The colours are rather violent together, but it's so soft and cuddly. It will be lovely to snuggle under when winter comes. The original plan was to cross stitch over all the seams, but it took me so long to go around the edges I decided I'd better not or it wouldn't be finished till 2021!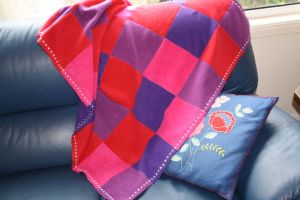 I didn't back it with anything, which means the knots show on the back of the stitching, though I was as neat as possible. That bugs me a little, but I like the weight and softness of it without a backing, so for the moment I'm putting up with it. Maybe one day I'll put a backing on it.
Though then it wouldn't technically be finished …