*@!!*$%! names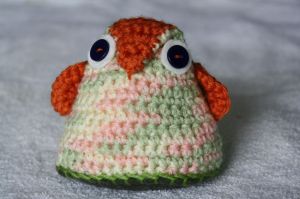 I know what you're thinking. You don't have to name the owl, Marina. It's just a stuffed toy. And it doesn't even look like an owl.
I know you're right, but he's just sitting on my desk staring at me, all vague and nameless. Sad, unloved and nameless. Accusing, almost. What kind of mother are you? If you really cared you'd give me a name. And stop letting people say I don't look like an owl.
Sorry, buster, you really don't look like an owl. The original did, but I think I overstuffed you. You look more like a sparrow with a really big butt. Maybe an overweight robin.
Hey, I could call him Robin. Robin the Owl.