I've been attending an art quilting class this term at here.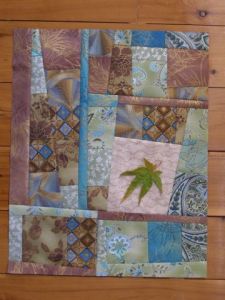 Oops. I can't believe that was nearly two years ago! Aaaand it hasn't got much further along in all that time. I know, you're shocked. But it now has a red leaf and is ready to quilt, so hey – progress! Glacial, but progress.
So, given the fact that I work so much better with a deadline (ah, Grasshopper, self-knowledge is a wonderful thing), I decided to join the marvellous Kathy again for art quilting classes.
Our first month the assignment was a still life. Not the most exciting of things to me, having watched Mum paint half a bazillion of them over the years, but oh well. I dutifully flipped through some art books for inspiration – artists love still lifes – and gathered my fabrics to take to class.
When we arrived Kathy had some all-white objects to set up against a white backdrop, her point being that colour would distract us. If everything was white we could really concentrate on the shapes and the relationships between them. You can see Kathy's account of the class