Remember Mark Antony's beautiful speech from Antony and Cleopatra that begins "sometimes we see a cloud that's baconish"?
No?
Okay, how about this. What do you see in this picture?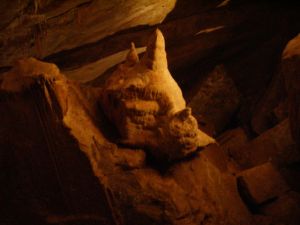 A rhino perhaps? A dragon even?
We visited Jenolan Caves in the Blue Mountains west of Sydney recently. The ducklings and I had fun spotting all sorts of strange creatures in the caves, like this "dragon". There were stalacmites at odd angles that looked just like unicorn horns, lots of monsters and a couple of dragons.
What was my beloved's contribution to this game of make believe?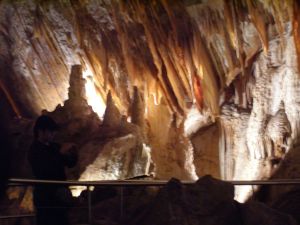 "Hey, that one looks like bacon." [He's talking about the pinkish shawls hanging from the ceiling.]
My meat-obsessed carnivore doesn't have a poetic bone in his body. Drama Duck and I looked at each other, that special look that says "we really love him but he's not quite like the rest of us, is he?"
"Maybe the dragon eats the bacon," she said.
It was an … interesting day. We changed our minds several times about whether or not to go that day due to doubtful weather and general laziness (at least on my part). So we didn't end up leaving till eleven, and by the time we got there it was 3 o'clock in the afternoon.
The last 10 kms or so of the trip winds round and round the mountainsides on a road that feels about two foot wide, with a terrifying drop off the edge. I was practically hyperventilating and vowing never to return before we'd even arrived. Thank goodness we didn't meet one of the many tourist buses coming the other way.
There's nothing much there above ground, just a hotel and ticket office. We crawled past a million tourists to the carpark, which was full. A sign directed us up a steep road to carpark 2.
Which was also full. So we climbed more mountain roads, around more scary twisty bends to carpark 3.
Which was also full. By this time we are a long way from where we need to be and I'm starting to wonder if we're going to have to park somewhere in central Australia. The road is now a dirt track with a most terrifying incline. But at last we find a place to dump the car, though we almost lose traction and fall back down the mountainside trying to get there. A helpful man directs us to a walking track to take us back down to the ticket office, which he says will take about 20 minutes "or I could call the bus up here for you".
"No, no," says the Carnivore gaily, "we're happy to walk."
I think 20 minutes might take more like 40 with Baby Duck in tow, but I can't face the idea of a bus ride back down that dreadful road either, so we walk.
Did I ever mention that I hate walking downhill? I know I'm not the fittest person, but by the time we got to the bottom my quads felt like jelly – and we hadn't even started yet.
The first guided tour that wasn't sold out was at 4:30, so we spent the time in between doing the self-guided tour of the Nettle cave, which is largely above ground. Demon Duck kept having conniptions about how high up we were, but everyone else enjoyed it (though there were a lot of stairs).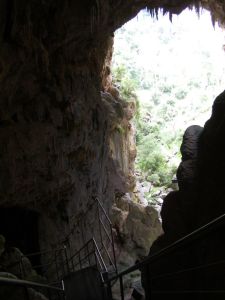 Then we took a guided tour of the Lucas Cave. Our guide announced that there were 910 steps to climb "but don't worry, they're nearly all at the beginning – after that it's okay". So we and 164 million of our new best friends trooped off up the stairs of torment to view the delights of the Lucas Cave.
Which took so long, with 164 million people in the group, that there was no time to see any more caves after that, for which I was profoundly grateful, though Baby Duck was disappointed. He wanted to go back the next weekend.
Fortunately we didn't have to climb back up the mountain to our car. There was a minibus to take drivers back to the various carparks, otherwise I'd probably still be there, crawling upwards on my hands and knees.
One more not-a-New-Year's-resolution: Must. Get. Fit.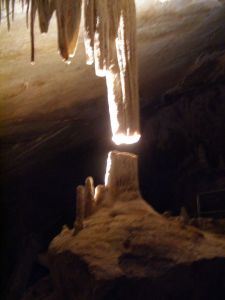 [And one more time without the bacon:
Sometime we see a cloud that's dragonish;
A vapour sometime like a bear or lion,
A tower'd citadel, a pendant rock,
A forked mountain, or blue promontory
With trees upon't, that nod unto the world,
And mock our eyes with air]