1) Holiday houses never have enough teaspoons.
2) Fishing is no fun if all you're doing is baiting hooks and casting lines for children.
3) Children only enjoy fishing if they catch a fish in the first 30 seconds. Makes you wonder why you bothered baiting all those #@$?!*! hooks.
4) Going for a brisk walk along the beach every morning will only do pleasing things for your hip measurement if you don't also spend the rest of the day lazing around eating cheese and biscuits and drinking wine.
5) Actually fishing is no fun full stop. I only know how annoying it is to take children fishing because the Carnivore told me. I was lazing on the lounge eating the cheese and biscuits while he was out suffering. Look, it was tough, but someone had to do it.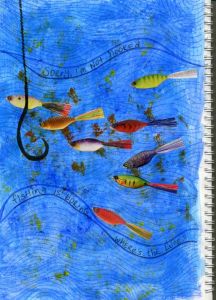 I should probably add a sixth point: I discovered I'm even lazier than I'd realised, hence there were no blog posts while I was away. I did a few pages in my art journal, but failed to finish any of the sewing projects I took, or read any of the books. I was a complete vegetable, though I did manage to drag myself off the lounge long enough to thrash the whole family at putt-putt golf. A most satisfying holiday!
So I'm back, all refreshed and ready to dive into the challenges of the new year. Baby Duck starts school on Monday, so once I get over the tearful goodbyes (mine, not his) it will be full steam ahead on Dragonheart, my fantasy novel which has been languishing since Nano ended.
And yes, I'm aware there was a fairly awful movie around a few years ago of that name. The best thing about it was that the dragon had a Scottish accent, since it was voiced by Sean Connery, who never bothers to alter his accent even to play a Russian sub commander. It's only a working title. No doubt something stupendous and far more suitable will occur to me in the fullness of time. In the meantime I'd appreciate it if you kept the sniggering to a minimum, okay?