So, we climbed this mountain recently. Okay, maybe I exaggerate. In reality it was more hillish, but try telling that to my quads. It was a steep kilometre of nothing but stairs, which took at least twenty minutes, and to my aching legs it felt like Mt Everest.
The reason we subjected ourselves to this torment—in searing heat too, mind you—was to see the lovely views from the top.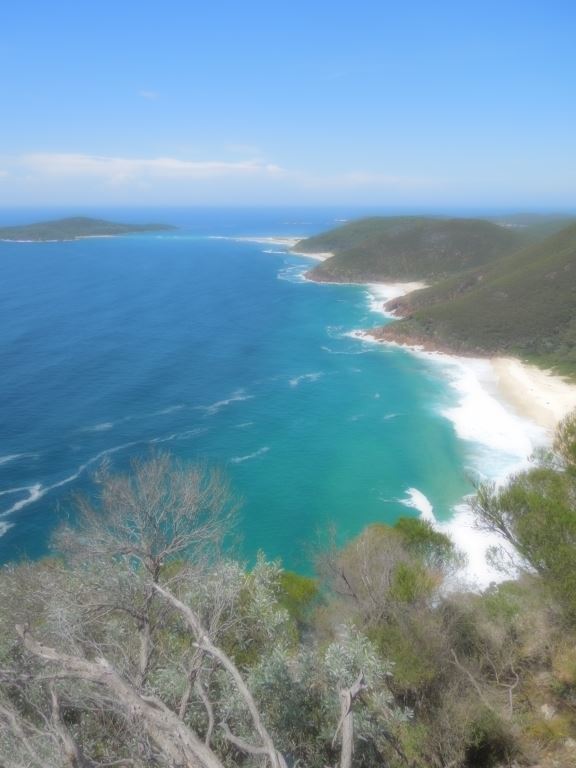 And they really were worth the climb. I know it looks a little hazy in the photo, but that's because I'd accidently knocked my camera's setting off "Automatic" onto something called "Effects". Naturally I didn't notice this till the next day, so all my hard-won photos of the view look like they were taken through a lens smeared with vaseline. In fact it was a brilliant clear day, but you'll just have to take my word for that.
Anyways, back to the getting down in record time thing: so we finally arrive at the top of Mt Quad-buster, and there are gorgeous 360˚ views. It's quite a large area at the top, with trees and boulders scattered around, so you have to move around to see all the views.
Did I mention it was stinking hot? We were all dripping by the time we got to the top. One particular viewing platform caught the sea breeze, and we spent quite some time there cooling off.
Then I announced my intention of going to the other viewing platform, to look at the view back the other way. My beloved decided to join me.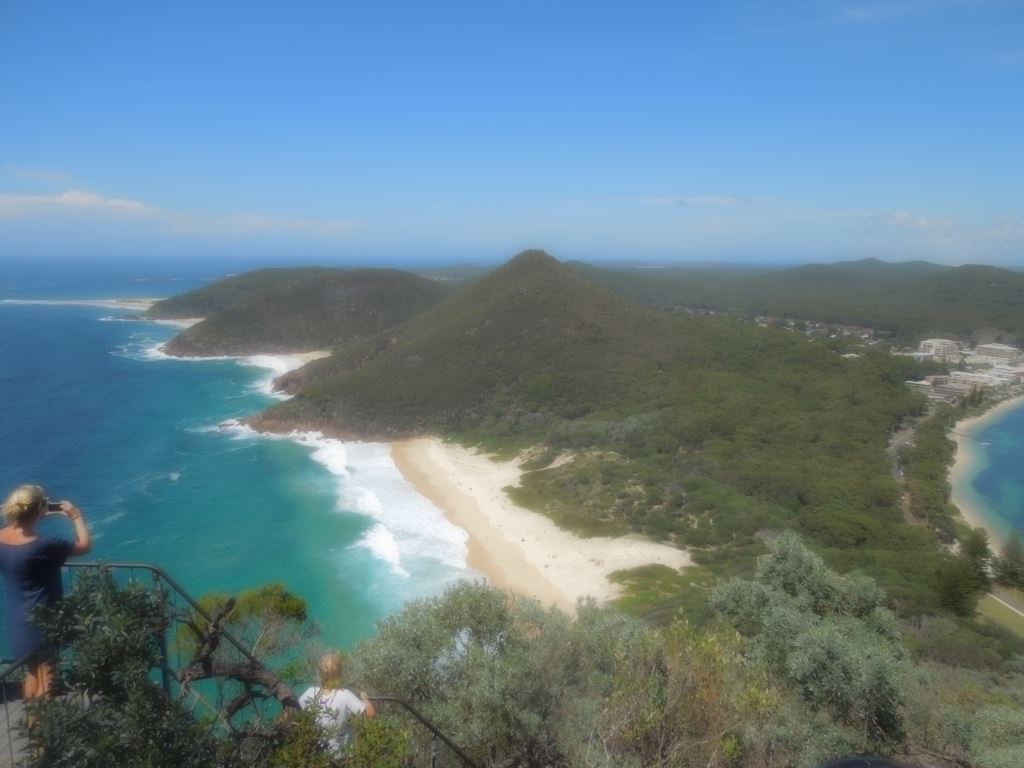 Pretty, isn't it?
The two youngest ducklings decided that they'd rather stay where they were and enjoy the breeze. We told them we'd come back for them before heading back down the trail. (I bet you can guess where this is going already, can't you?)
While we were admiring the other view, the oldest and most sensible duckling joined us. We chatted, I took photos, then we went back to collect the other two …
… who were no longer enjoying the sea breeze where we'd left them. A quick search of the area made it clear they were no longer anywhere on the top of Mt Quad-buster.
"They must have thought we'd gone without them," said the Carnivore. "I bet they're rushing down, trying to catch up with us."
It seemed hard to believe. I mean, Demon Duck is fourteen, and usually quite sensible. We'd told them we'd come back for them, and we're really not the kind of parents that would absent-mindedly wander off and abandon their offspring on the top of a mountain anyway—if indeed anyone is that type of parent.
Being the worrying type, I briefly considered they might have both somehow fallen off the (well-fenced) lookout and crashed to their deaths on the rocks far below—without anyone noticing—but even for me that was a bit of a stretch. So I had to agree, ridiculous as it seemed, that they'd both suddenly decided they had the starring roles in Hansel and Gretel, and had rushed off to find us.
Which brings me, of course, to the "how to get down off a mountain in record time" part. We practically fell down that mountain in a mad attempt to catch up with the stupid children who were dashing down in a mad attempt to catch up with us. We were lucky we didn't break our ankles.
It took us twenty minutes to get to the top. It took perhaps three to get back down. But they were a very tense three minutes! The whole way down, all I could think was: what the hell do we do if we get to the bottom and they're not there? I sure wasn't climbing back up again!
Fortunately our story has a happy ending. We found Hansel and Gretel at the bottom, walking back up to meet us, pale, stressed, and very apologetic. There were some tears of relief and grateful cuddles.
So yes, a very quick method of descending a mountain. Not really one I'd recommend, however!