I was very tempted to call this post "The Happy Hooker", but decided to err on the side of caution, lest I attract all sorts of unwanted traffic to the blog. Of course I'm not talking about anything unsavoury, merely that I have a new hobby (as if I needed another one of those!).
Here is my first effort in progress: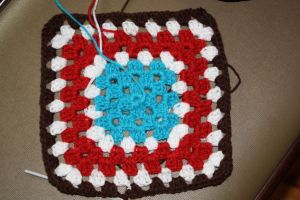 For a long time I've been thinking I'd like to learn to crochet one day. Well, I decided the day had come, and asked the Internet very nicely to teach me. And you know that Internet, always so obliging! I found a great, easy to follow video on Youtube and off I went.
And then the Internet went all evil temptress-y on me and led me to some truly mouthwatering sites, like Sarah London and Attic24. Oh my goodness, the riot of colour! I want a ball of wool in that colour! And that one! Ooh, and those too! And the combinations and patterns are so divine. I can feel a new addiction coming on.
At least, unlike my sugar addiction, this one's not bad for me.