I finished my mystery WIP from last week. It did look very like a skirt in the photo I showed you then, but in fact it is a table runner.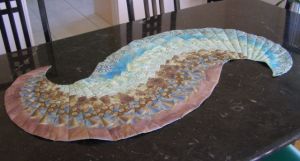 Only I think I need a bigger table! It was meant to live on my sideboard, but it turned out way too big. Even on the table it takes up a lot of space but it's very pretty. Here's another photo which gives you a better idea of the colours. They're so gorgeous.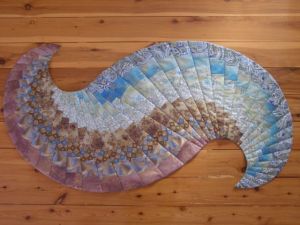 I had a few random wedge-shaped scraps left after I cut out the table runner, and those beautiful fabrics were calling to me. "Don't throw us out!" they said. "We could make a really pretty little art quilt."
I've never made an art quilt before, but I've been wanting to try for a while, so last night I had a lovely play, sewing random scraps to other random scraps with joyful abandon. I ended up with this: my newest WIP.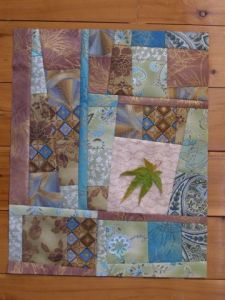 Yes, that's a real leaf sitting on top of this little quilt. That's why it's still a work in progress. I have to applique a fabric leaf on there instead, then quilt and bind it. But I got that leaf off the maple in our front yard to help me draw it right.
(Actually the Carnivore got it for me, bless his little cotton socks, at about 10 o'clock last night, when it was probably all of two degrees outside. That's true love for you.)
Only when he handed it to me, I was shocked at how long and skinny the points of the leaf were. It was nothing like the picture of a maple leaf I had in my head.
And then I realised I've lived here for 17 years, and walked past that maple tree day after day – and never known what its leaves really looked like. My mental classification system has just gone "yep, maple, I know what they look like", without actually seeing what was in front of me.
I suppose classifying is a self-defence mechanism of the brain. If we couldn't make assumptions based on previous experience, our brains would have to examine and evaluate every single thing we saw and did, every time. We'd be overwhelmed by detail, unable to function. Maybe it's even a survival skill – "ooh, I remember how sick I felt last time I ate the shiny purple berries, better not do that again".
But if you're a writer or an artist, sometimes you have to take the brain off automatic mode. You have to see those details you normally gloss over before you can describe them or represent them visually. You have to listen to what people really say when they're frightened/ecstatic/overwhelmed, so your characters don't sound like animated cardboard. (Believe me, I know cardboard – there's an awful lot of it in Man Bites Dog. The interminable revision grinds on.)
So I'm going to practise being a soaky soaky little sponge, and really see the things I look at. I'll try to give people my full attention, instead of half listening and half formulating my response while they're talking. (Unless it's Baby Duck rabbiting about monsters or X-Men or aliens. I reserve the right to tune out baby babble.) Who knows? I might Become a Better Person. Or more likely I'll forget – but it would be an interesting exercise, don't you think?
And speaking of forgetting, I almost forgot to wish my blog a happy birthday. Two years old today, and if not exactly "going strong", at least still going!