Drum-roll please! It's finally time to reveal the gorgeous cover for Twiceborn Endgame: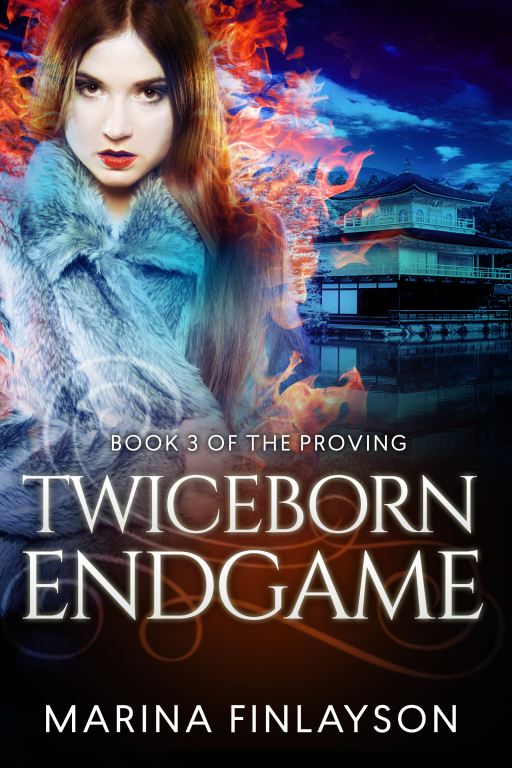 I love it, and I can't wait to see it sitting side by side with the first two on Amazon. That should only be a couple of weeks away now. It's still with the editor, but should be back any day now. Hopefully she won't suggest too many changes, then it's off to the formatter and we're into the home stretch. Still have to write the blurb, though. I always put that off until the last minute! Considering how short they are, blurbs are surprisingly difficult to write.
This one will be a doozy, too. There's so much going on in this book! So many threads to tie off, as it's the last book in the trilogy. Lots of exciting twists, none of which I want to give away in the blurb, so I'm going to have to give it careful thought. Kate has more hair-raising adventures! And does kick-ass dragon stuff! (Sadly the blurb requires a little more detail than that.)
In other news, the second Fairytale Curse book has a name: The Cauldron's Gift. It also has a most delicious cover, but I can't show you that yet, as the book's not due out for several months yet. I've had a stressful but exciting time lately working with the cover designer to come up with something that suited the book and was genre-appropriate. That's another thing about publishing that's not as easy as it sounds (though it's a lot more fun than blurb-writing).
And of course it's November, that time of year when crazy people all over the world commit to writing a whole novel in just one month. I was still finishing up revisions on Twiceborn Endgame when November started, and then I had a bit of a mental blank for a few days: what on earth would I write about? I was supposed to be writing the third Fairytale Curse book, but the prospect left me unenthused, so I sat down on November 5th and began a random new story instead.
So now I'm pulling my usual November stunt of madly scrambling to dream up enough story to be able to continue writing every day. "Writing is like driving at night in the fog. You can only see as far as your headlights, but you can make the whole trip that way." Well, the road is exeptionally foggy, but I'm motoring on, trusting to the process. Hopefully I arrive at the end with a finished draft!
How about you? Are you doing Nanowrimo? How are you going?