'Twas the night before Nano and all through the house
Every writer was panicked and glued to their mouse
The outlines were dodgy and full of plot holes
And 50k words seemed impossible goals
Okay, so now you know why I write novels and not poetry. But yes, Nanowrimo starts tomorrow, that month of mass insanity where writers all over the world egg each other on to write a 50,000-word novel during November. I'm equal parts excitement and terror. 50,000 words in a month – even though I've managed it four times before – is very daunting. Or maybe that should be "because I've managed it four times before". I know exactly what I'm getting myself into!
On the other hand, knowing what's ahead is also kind of exhilarating and I guess that's the reason I keep coming back – the excitement when marvellous plot twists come to you seemingly from nowhere, the buzz when the writing's going well and, above all, the rush of making it to the end. (And maybe the joy of collapsing when it's all over!)
This year we have four Nano-ers in our house. The girls will be doing it again for the third year, with Drama Duck aiming for 15,000 words and Demon Duck going for 5,000. Baby Duck is joining the fun for the first time, with a goal of 1,000 words. I don't think he'll have any trouble. Some of his dinnertime monologues about lego or Skylanders are waaaaay longer than that.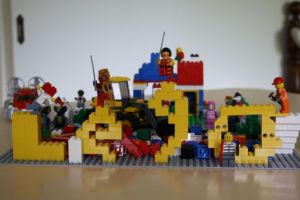 If only he could find a way to write a story using lego bricks he'd be set.