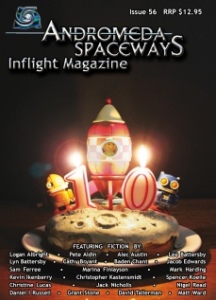 Andromeda Spaceways Inflight Magazine has been around for ten years now. To celebrate, ASIM#56 is a bumper edition containing no less than 20 – count 'em, 20! – fabulous stories of sffnal goodness. From aliens and asteroids to demons and zombies, if science fiction and fantasy are your thing, there's something here for you.
There's also the story of a sphinx who's bored with asking riddles and the desperate family of merchants who have to outwit her or lose everything, including bits of their anatomy they'd really rather stayed attached. A story – and I quote from the editor – which is "light-hearted and whimsical, a story that makes you smile".
Well, it certainly makes me smile, because it's my first semi-pro publication. Very exciting to see it looking so grown-up and real in print. And even though the pay rate wasn't "professional", everything else about this magazine and the experience of working with them was.
They have one of the best submission systems I've seen. Instead of disappearing into a black hole for months, as happens with so many other magazines, you can track the progress of your submission through first readers, second readers, editors, etc. When you get accepted, the editing is painless, and the contract, payment and contributor's copy arrive in a timely fashion.
The whole process was smooth and stress-free. And now I get to hold this cute little magazine in my hands that has my name on the cover and my story "The Family Business" inside.
It's almost exciting enough to make me stop procrastinating and write another one …