My love affair with sugar is fading. We used to be so close, but now we hardly see each other …
But before I give you the latest report from the war zone, I have to show you the invitations I made for Demon Duck's upcoming slumber party.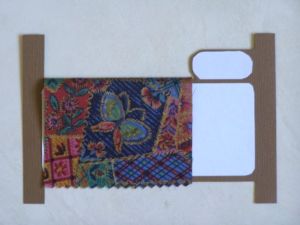 Aren't they cute? When you lift the quilt the invitation is revealed hiding underneath. I was very proud of myself for dreaming this up – and then it occurred to me how very little actual sleeping takes place at a so-called slumber party. Lots of giggling and talking, watching DVDs and consuming junk food, but not much sleeping. So maybe a bed wasn't such a good idea after all!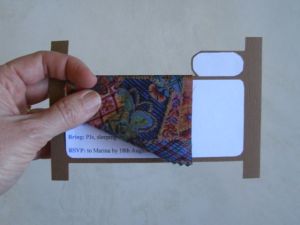 I did a little sewing the other night. One of my sister's sons gave her a Kindle for her birthday recently (I shall have to give Baby Duck hints that this is the level of awesome required for presents from one's grown-up sons!). She was carrying it around in a satin bag. The first thing I thought when I saw it was that she needed a padded bag to protect it. Actually that was probably the second thing, after "Oh my God, you've got a Kindle!"
So I had a go at making one. My first attempt ended up too small, and will be reincarnated as a handbag for Demon Duck. For my second attempt I found a pattern