It has occurred to me more and more lately that I am addicted to chocolates and sweet foods. I used to have a more responsible attitude. I'd only eat my beloved peppermint chocolate two or three times a week, for instance. Then it crept up to every night. Then the amount started to increase. Lately I've felt that I could happily down the whole block in a sitting, though I haven't quite sunk that low yet. But the potential was alarming. I could end up one of those sad cases where they have to bring in a crane and knock a hole in the wall because they can't get the body out through the door.
So I decided to give up peppermint chocolate, at least for a little while. Two days later, my well-meaning family, unacquainted with my new resolve, gave me ten blocks of the stuff for my birthday. Sigh.
Then we watched the DVD Supersize Me, in which Morgan Spurlock nearly eats himself into an early grave by eating nothing but MacDonalds for a month. I'd seen it back when it first came out, but wanted to show it to the girls. There is a moment at the end when a very sick-looking, much larger Spurlock is sitting with a dietician. On the table between them are pots and pots of sugar, representing the enormous amount he has ingested over the month.
With that image in my head I walked into a bookshop the next day and a book jumped out at me: The Sweet Poison Quit Plan, by David Gillespie.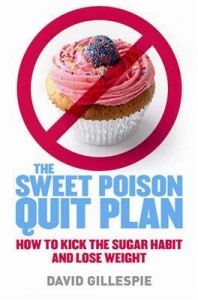 "Sugar makes you fat," it begins. "It is converted directly to fat by your liver and it destroys your appetite control so that you want to eat more of everything."
Gillespie also says it is the cause of many chronic diseases such as heart disease and obesity, and of course diabetes. It is as addictive as nicotine, and in just about everything we eat. Not only that, but it caused the Global Financial Crisis. Okay, I might have made that part up. But there is a lot of food for thought in his book, if you'll forgive the pun. If you're interested, his blog discusses much of it.
Ding ding ding! This was ringing some bells with me. Most days I wake up with a headache, which often disappears mid-morning. Hey, that would be just after I've had my glass of sugar (ie orange juice) for breakfast, followed by my sugar-laden morning tea. Coincidence? And you know when I have a headache and the Carnivore suggests I take a tablet, and I say "oh, I'll just have a cup of tea, that'll fix it"? Maybe that's not the caffeine after all.
Okay, I'm a sugar addict. I finish the book on Monday afternoon and resolve to give up sugar forthwith. No tea and chocolate before bed.
The result?
Day 1: I have a filthy headache all day. As in, toothed, spacefaring worms from the planet Mongo are devouring my brain kind of headache. I take this as a challenge and resolve not to be bested by the demon sugar. Feel abnormally tired driving home in the early afternoon, so much so that I worry about falling asleep at the wheel. Damn the evil sugar and its energy highs and lows! Sing along to the radio and focus on how good I will feel when I conquer this addiction. Cut my beloved breakfast orange juice back to half a (large) glass.
Day 2: Headache has subsided to a dull ache. Amazingly, I feel no cravings for sweet food. I attribute this to my new gung-ho attitude to the demon sugar and feel mildly smug all day. Cut sugar in my tea back to half a teaspoon. Tastes so bad am forced to drink herb tea instead. Notice for the first time how very sweet orange juice is, and contemplate cutting my breakast ration back further.
Day 3: Still no cravings for sweet foods. For the queen of peppermint chocolate, this is most unexpected, but very welcome. Snack virtuously on nuts and natural yoghurt. ("What's that?" the Carnivore asks. "Natural yoghurt." "Does it taste nice?" "Disgusting. No sugar.")
Day 4: Cut breakfast orange juice down to half a small glass, and drink a large glass of water with it. OJ is now tasting almost unpleasantly sweet. Perhaps I'm only drinking it out of habit now. Have also purchased some dextrose ("good" but not very sweet, sugar) to try in my tea.
Perhaps as a result of cutting my OJ back so far from normal levels, I experience some cravings today. Manage to tough it out, but then, at dinnertime, a heavy blow. The Carnivore points out that the bottle of diet soft drink I've been drinking with dinner the last few days is, in fact, the real deal, overflowing with sugar. Feel despondent. Tip evil, lying soft drink down the sink. And then the traitorous Carnivore flourishes the packet of Mint Slices (a peppermint chocolate biscuit – only my Most Favourite Biscuit in the Whole World) he has bought. Feel betrayed. And slightly homicidal.
Day 5 (Today): Cravings are worsening. Spend much time staring at the pantry shelves, hoping some healthful sugar-free chocolate will magically materialise. Wonder how diabetics cope. Search the internet for "diabetic chocolate". Avert eyes from Mint Slices in fridge. Encourage confused but eager children to eat all the sugary treats in the house. Wonder how long I can keep this up.
Consider lynching David Gillespie.