No calamities have befallen anyone here at Duckling Central, touch wood! My recent silence was due to nothing more serious than a prolonged case of holiday brain and general laziness. I have read a lot of books lately, including rereading some old favourites, and even finished a most beautiful crochet blanket, which I'll show you soon, I promise. But every time I even contemplated posting on my blog, my brain cells dribbled straight out my ears and lay weeping on the floor.
The Carnivore swears he was hoping for some calamity to befall poor Two Planks, mind you. You may remember she went under the knife just before Easter to remove a few metres of ribbon from her insides. The Carnivore often talks big, about how much he loathes this dog – and yet, whenever you hear her barking hysterically, you can be sure it's because he's playing some crazy game with her.
He used to talk like that about our old dog too – yet who was in tears when the dog finally died? He's not fooling anybody.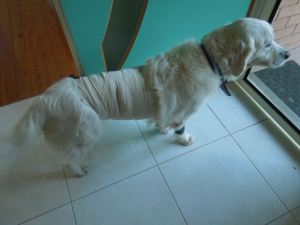 The fluffiest member of the household in fact made a miraculous recovery from her latest ordeal. She came home on Easter Saturday (after the operation on the Thursday), a little sore and slow, all bandaged up like a furry mummy. Next day the little turkey was bounding around the back yard full of beans again. And you should have seen the scar when we finally unwrapped her – it was a good foot long, held together with a million staples. This dog bounces back so fast she could be made of rubber.
In fact with this many lives she'd make a great cat.