Remember last year when some of the black belts at taekwondo gave out ninjabread men at our last class?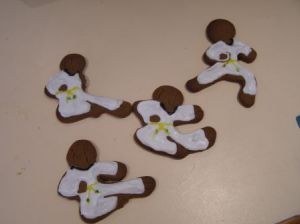 I thought they'd modified regular gingerbread men shapes, but then I found these at the shops: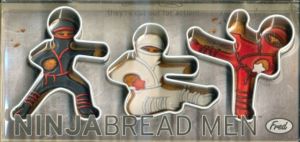 The packaging is a treat in itself. Some quotes:
"These stealthy warriors are set to sneak into your kitchen and stage a cookie coup!"
"your hands move like a whisper, cutting dark shapes into pre-rolled dough"
"quietly cream together the shortening" etc, "add the molasses and blend into the night"
"moving like the wind, preheat the oven"
Someone at the cookie cutter company has a great sense of humour! We couldn't wait to make our very own ninjas. I can't show you a photo because we ate them too fast.
Our real-life ninjas all moved up a grade at the end of the year. Baby Duck missed a lot of classes due to his hospital adventure, and spent most of the year as a yellow belt.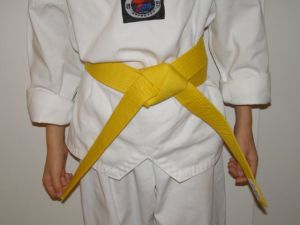 But he finally earned his green tips. Not to mention a $30 grading incentive payment from us, which was rather more interesting to him.
I also missed a grading due to Baby Duck's hospital adventure, so Demon Duck pulled ahead of me, which makes her soooo happy. She loves being better than me at something! It's quite handy for me too, as she can help me with my forms. She's now a high blue belt, and I'm a blue belt.
I remember when we started, how pro the blue belts seemed. Now I am one, I feel a bit of a fraud. I still feel like a raw beginner. My kicks are still crap and my balance is all wobbly. I'm dreading the next form I have to learn as there's two parts where you have to stand on one leg. At the next grading I'll be the one falling over and looking like a complete dork for sure. Can't wait.
Maybe I should ask Santa to bring me a new sense of balance?