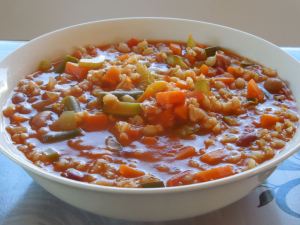 Happiness is a steaming hot bowl of scrumptious soup on a cold night.
Add a loaf of fresh crusty bread and you have a match made in heaven!
I've been making this soup a lot lately. Lots of vegies, beans and pearl barley, so it's healthy as well as delicious. Great to come home to after standing around in the cold at netball training!
Easy to make, too:
3 carrots, 2 zucchini, 1 onion, half bunch celery, some green beans, all chopped small
10 cups vegie stock and/or water (I use a mix)
1 can chopped tomatoes
1 can mixed beans
1½ cups pearl barley
1 tub tomato paste
Herbs (I use basil, oregano, salt, Tuscan seasoning)
Saute the vegies in a big pot for 3-5 minutes, then throw in everything else, bring it to the boil and simmer (with lid on) for an hour.