I received my first "editorial letter" recently. One of my stories is being published in a semi-pro magazine in a few months, and the editor sent me an email with a file attached suggesting a few changes.
I was quite nervous about opening it. What if she wanted to change great chunks of it? Or delete parts I felt were integral to the story? She said they were only minor changes, but maybe her idea of minor would be different to mine.
As it turned out I needn't have worried. One phrase deleted, a couple of words switched for synonyms and a handful of commas added. Nothing to alarm even the most sensitive of writers, and I'd already decided before I opened the file that I'd agree to any changes she wanted. Editors have a lot of experience at prettying things up for publication, after all. If they think something needs changing then it probably does.
So – big sigh of relief, trauma over … until she sent another email requesting a paragraph-long biography to go with the story.
"Marina is the best-selling author of Blah …" I wish.
"Marina has travelled the world and held 57 fascinating jobs that make her uniquely qualified to write this awesome story …" Not quite.
How do you describe yourself without boring people on the one hand or sounding like you're blowing your own trumpet on the other? It has to be true (damn), interesting, relevant to the magazine's audience and preferably humourous.
I could tell them I'm a skilled quilter, but readers of a spec fiction mag aren't going to care about that. I have three children (likewise, yawn). I could say I have a masters degree in English, which might be relevant but makes me sound like a tosser.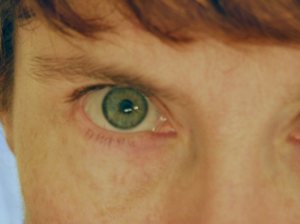 Hey look! I have eyes that look blue in some lights and green in others. Also, I'm a pretty ordinary photographer.
I've been to more weddings than anyone who isn't a marriage celebrant (I used to play the organ at weddings). And I cried at every single one of them. I always cry at weddings. And funerals. Even if I don't know the person.
I own a dog with a death wish. I have a huge collection of dragon statues. I'm a really crap housekeeper but I cook a mean spaghetti bolognese. I had to beg my sister for months to give me her Super Secret Spaghetti Recipe.
That one little paragraph caused me a lot of trouble. This is what I came up with in the end:
"Marina lives in Sydney where she divides her time between kid-wrangling, writing and many other interests. She has a bad habit of starting new novels without finishing the old ones, which she'll have to kick if she is ever to get any of them published. She blogs at www.pecked-by-ducks.blogspot.com."
How do you sum up a life in one little paragraph? What would you write if you had to describe yourself?