I'm very excited to be able to show you the cover for Twiceborn at last. It was done by Yoly at Cormar Covers several months ago, but I didn't want to reveal it till I was almost ready to publish.
Guess what? I'm nearly there! Twiceborn is buffed and polished as shiny as I could make it, and it's now off at the formatters getting a fresh lick of paint. It's almost a Real Book!
Are you ready?
Here it is in all its glory: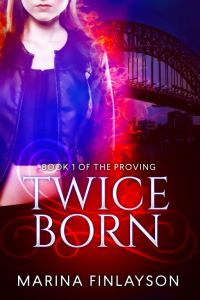 Isn't it gorgeous? I feel like a proud parent showing off baby photos, only this baby doesn't have forcep marks on its face, or a weird pointy head. Or jaundice. Or any of the other not-so-photogenic features my real babies had. And unlike Baby Duck, the insides of this baby are all present and correct too.
Let me remind you what the story's about:
 "Still grieving her beloved son, Kate O'Connor's just going through the motions. She doesn't care that strangers often shadow her on the unorthodox courier jobs she does for a friend. She doesn't even care what's in the packages till the day she returns from a special rush job with no memory of the event. But it must have been pretty wild, because now there's a werewolf in her kitchen trying to kill her – and he's just the first in line.

Dragged into a supernatural war of succession between the daughters of the dragon queen, Kate discovers a Sydney she never knew existed, peopled by all kinds of strange half-human creatures. To have any hope of surviving she must uncover the explosive secret hidden in her memory – but first she has to live through the night."
Can't wait to share it with you!