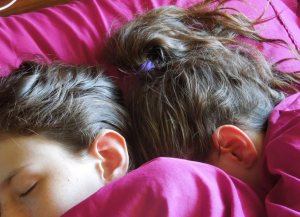 Happiness is a sister to cuddle up to when you're having trouble falling asleep.
It's nice to remember the little things that make us happy. I've been thinking for a while of doing a photo series to remind myself to appreciate the everyday. A good excuse to practise my photography skills too!
They look so peaceful in this photo, don't they? Ironic really, when you consider the hundreds of thousands of dollars we've just spent and the months and months of angst, living through the renovation from hell. All so that these two didn't have to share a bedroom any more, because they fought so much.
And now they have their own bedrooms, where do I find them? Squished into a single bed together, naturally. That's kids for you.
On the subject of the renovation, it occurs to me that I never posted a photo of the completed project. Because it is – finally! – complete, landscaping and all.
We started with this:
progressed through this:
and this: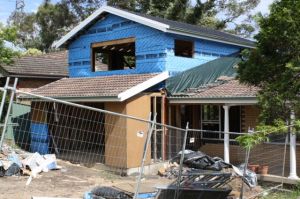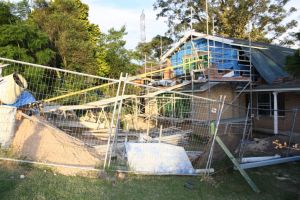 (oh, the horror!). Till at last we arrived at this:
Renovations are a bit like childbirth. Once you have the finished product, the pain of getting there recedes into memory. It's certainly a wonderful house now, set up to suit us perfectly. But unlike childbirth, I don't think I'd ever line up to go through it more than once. We learned a lot of valuable lessons about dealing with builders, but the main one was: don't.
Next time, just move.