… someone else. Look, I freely admit I'm not the world's greatest housewife. Life's too short to spend your time picking up all the kids' toys and belongings scattered through the house, when as soon as they come home from school they're only going to re-scatter them. And there are so many other things to squeeze into every day. Some of them are necessities like washing, shopping, cooking. Others are more fun, like dropping into the local patchwork shop to buy cotton and coming home with a few extra things.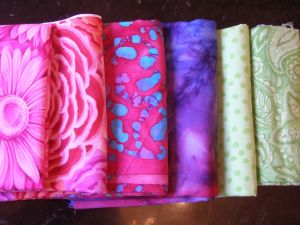 You can see I've been replenishing my stock of hot pink fabric after Drama Duck decimated it for her owl.
I needed the cotton because I ran out two-thirds of the way through quilting butterflies all over that quilt that's been hanging over the railing in my foyer so long. I'm practising my free-motion quilting and the butterflies are gradually improving. It will be so nice to be able to pack that quilt away!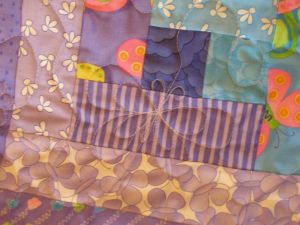 But about that Housewife of the Year award. I changed the sheets on Baby Duck's bed, so for a change the bed was made when he came home from school. He stopped dead in the doorway of his room and turned a look of surprise on me.
"Mum! Are we having visitors today??"
Ouch!
He's come out with some pearlers lately. Another one was when I was driving him home from school on Friday and we were discussing the movie Monsters Inc. He couldn't remember the name of one of the monsters so I supplied it.
"That's really good that you remembered, Mum," he said in tones of great admiration. "Usually old people forget everything."
And he wonders why I laugh at him so often.